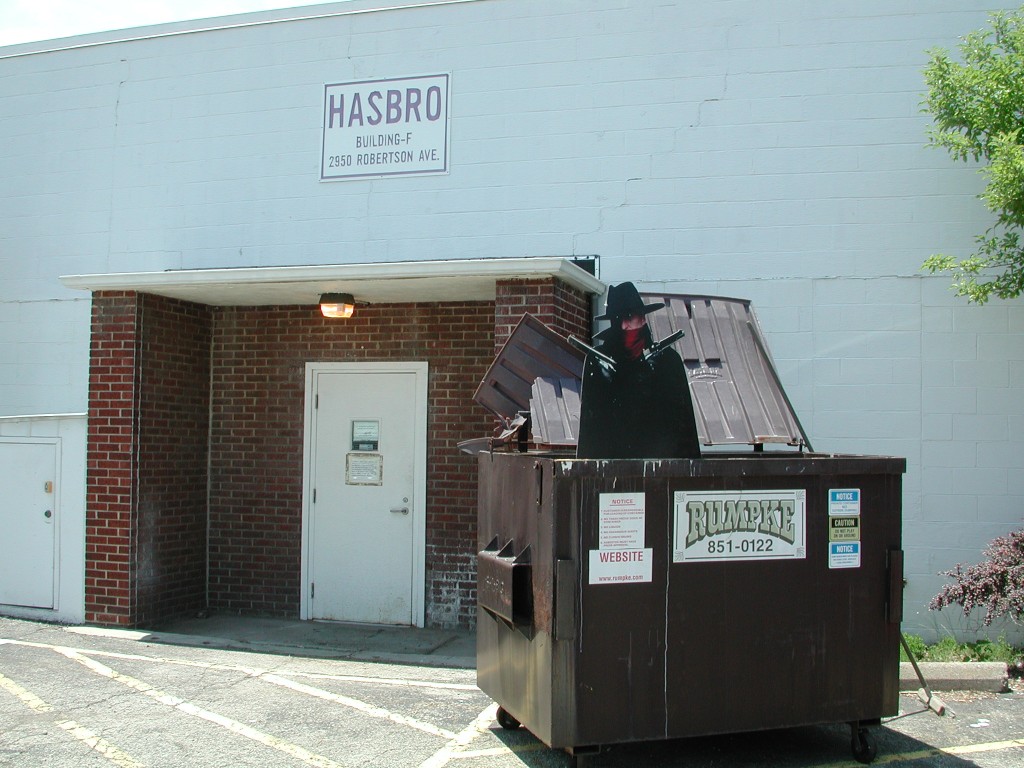 When Hasbro closed up it's Cincinnati offices in 2000, it closed the door on over 50 years of Kenner's long, fabled history of toy making.  For many local residents, this was a time filled with mixed emotions of solemn remembrance and fond memories.  After all, it's hard to throw a stone in Cincinnati and not find someone who knows someone that used to work for Kenner, or was tied to Kenner in some way.  It was big news for a while.  The newspapers and magazines generated their normal human interest and recap stories about the closing and most people paid their final respects and moved on.
What many people do not know, is that even though Hasbro shut down the Cincinnati offices, there was still a lot of housecleaning that needed to be done before Hasbro could truly move on.  The main offices at 615 Elsinore Place needed to be packed up, cleaned out, and anything not being sent to Hasbro's Rhode Island location needed to be trashed or auctioned off.  That was only the beginning though.  A large warehouse located at 2950 Robertson Ave. also needed to be cleaned out.
You don't make toys for over 50 years in one city without accumulating a lot of samples, prototypes, and other pre-production related items.  That was where the Robertson Ave. warehouse, also know as the "Morgue" came into play.  The "Morgue" was the nickname given to the area of the warehouse that stored all of the toy concepts, original art, packaging prototypes, and pretty much everything collectors dream about getting their hands on.  Something had to be done with all of the materials in the warehouse, so Hasbro left behind a few employees, and soon to be ex-employees to take care of it.  It was seen as just another job to some of the employees, but it's work that I am sure many of us wouldn't have minded doing.
The next part is going to hurt a little, so brace yourself.  Hasbro didn't want to incur the costs of moving and storing a warehouse full of items that were in their opinion, old and worthless, so the order was given to trash anything that couldn't be used again.  Basically if it wasn't a three dimensional type piece that could be kit bashed for other prototypes, or studied to see how a mechanism worked, it was getting destroyed.
Here are some documents related to those last few days of Kenner's Morgue:
Email for Morgue final report and reference to inventory list (252K PDF)
Report explaining what should be kept and what should be destroyed (467K PDF)
Morgue inventory list pages 1-20 (3.69M PDF)
This is the first of six updates about the Morgue inventory list.  The entire document is 128 pages long.
Here is a link to the second update.