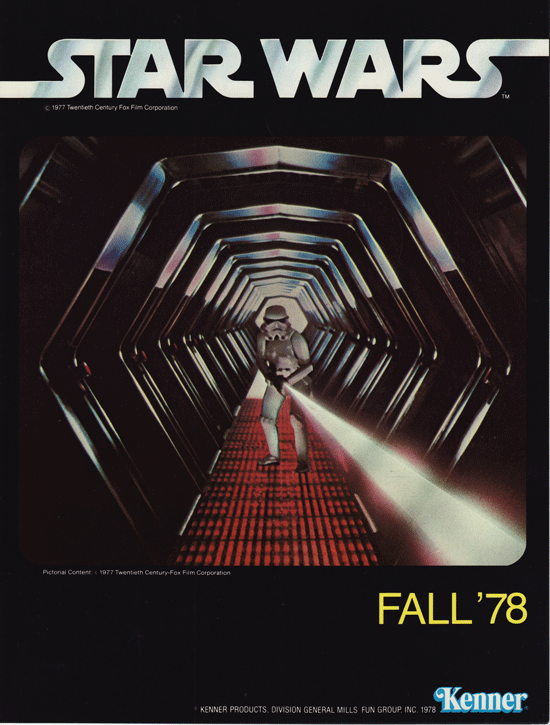 Many collectors have seen various vendor catalogs, typically called 'Toy Fair' catalogs because they were sent out around Toy Fair to promote the new and existing lines to vendors.  These catalogs contain nice photos of the toys, descriptions, case packing information, ordering numbers, box measurements, store display suggestions and more.  Often, Kenner would supplement these annual catalogs with inserts or additional fliers when the occasion warranted it.
For collectors, the toy fair catalogs are fairly easy to obtain, particularly for the Star Wars years from 1977-86.  Supplements are quite another story.  I'm not particularly sure that we are even aware of all that may have been produced over the years.  This entry showcases a little known insert focused on Star Wars merchandising plans from Fall of 1978.
Click to view images of each page (use controls at bottom of enlarged image to navigate):

The interior pages describe the TV marketing campaign underway and Kenner's investment of four million dollars into television ad spending, including one million alone into the 'new Star Wars commercial featuring R2-D2 and C-3PO' set to air during the infamous Star Wars Holiday Special (November, 1978).
Kenner naturally, and rightfully, trumpets their success with Star Wars toys at this early stage, indicating their unprecedented support in marketing and developing their license for the most popular movie of all time.  They declare their plans to feature Star Wars ads for not only the sponsored Holiday Special, but also during other family specials like Puff the Magic Dragon, Bugs Bunny, How the West Was Won and Snoopy Come Home.  As they say in the supplement, "Kenner is reaching virtually every kid in America with a gigantic TV campaign…"
The supplement goes on to note that four million Star Wars catalogs will be distributed to Burger Chef restaurants to further promote the license.  Finally, "Cheerios" joins the Force, with special poster premiums and Kenner rebates, supported by a newspaper ad campaign designed for the comic section.  In all, seven other cereals would also include various Kenner rebates and Star Wars premiums inside.