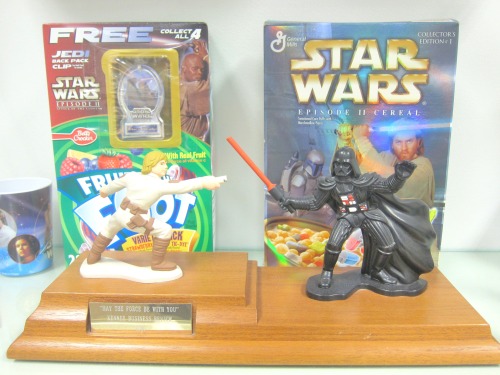 The General Mills History Tumblr site posted an image that Star Wars Micro collectors will find interesting.  This is a presentation piece created by Kenner in 1981 to celebrate the success of the Star Wars toy line.  What's interesting is the scale of the piece.  The Luke Skywalker and Darth Vader micros are actually four times the size of the production toys, and hand-made from a resin material.  These "4-ups" are extremely coveted by collectors, and that makes this one drool worthy award!  You can read more about these presentation pieces over on the Star Wars Collectors Archive.
The General Mills Tumblr site has posted a lot of great images of all things related to the company.  Everything from old cereal boxes, to advertisements, and of course Kenner toys!  Definitely something you'll want to keep an eye on.
General Mills purchased Kenner in 1967, and was the parent company until Kenner was spun off in 1985 as Kenner Parker Toys.