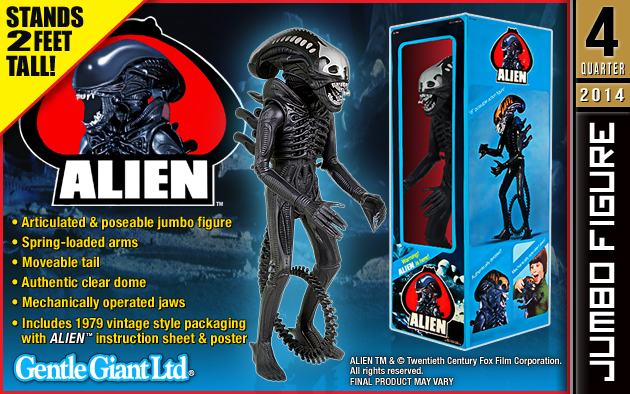 Gentle Giant has just announced the details of their upcoming 24″ Alien jumbo figure!  This brand new figure is scaled off of the 18″ figure Kenner released in 1979.  That package, instruction sheet, and poster… boom goes my mind!
It's exciting to think about another large Alien figure heading down the assembly line!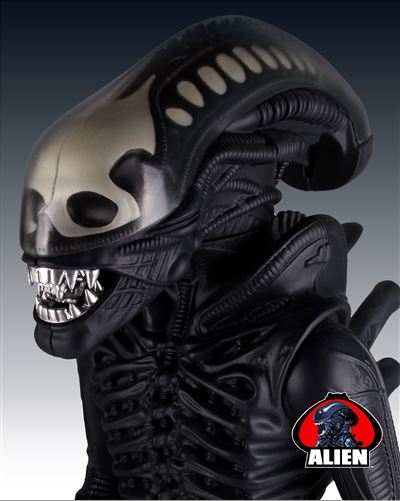 Details from the Gentle Giant website are below:
re-Order – Q4 2014 Release
Gentle Giant Ltd. is proud to bring you another piece of toy history with our Alien Jumbo Kenner-inspired Figure! As seen on Toy Hunter, Gentle Giant Ltd. has taken an original 18" Kenner Alien figure and rescaled it to a staggering 24 inches!

This gargantuan new Jumbo figure possesses the same features as the original – from the chrome teeth to the clear dome head and glow-in-the-dark skull. No detail has been overlooked. This enormous figure even features mechanically-activated jaws, just like the original! Packed in an Alien-inspired vintage-style box with copies of the original poster and instruction sheets, the Alien Kenner-inspired Jumbo Figure is a must-have for toy hunters from all generations
To pre-order yours, head on over to the Gentle Giant website!